Trans-Siberian Orchestra Bus Trip
December 29 @ 4:30 pm

-

11:45 pm

$155.00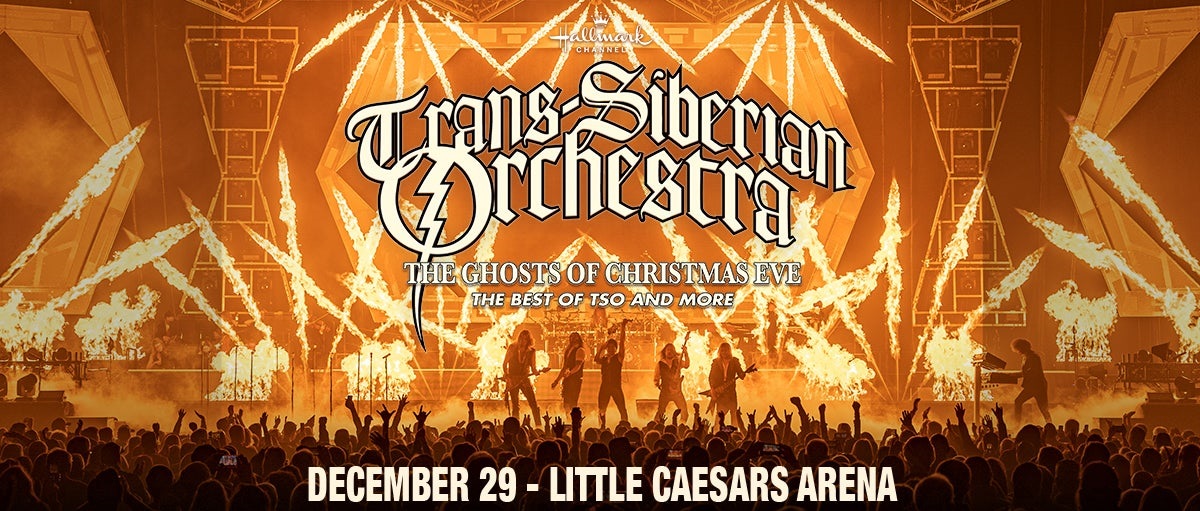 Price: $155.00
Great Premium Club Seats – Section 110 (rows 15-23)
Now Taking Reservations!

Trans-Siberian Orchestra is an unlikely yuletide success — a grandiose extravaganza that melds '80s hair-metal sizzle with classical elements and a production that puts some of the biggest pop stage shows to shame. These aren't the nostalgic fireside stylings of Bing Crosby or the delicate grace of "The Nutcracker." TSO is Christmastime turned to 11 with a fusillade of pyro raining down.

Date: 12/29/22

Trip will Include:
– Round trip motor coach transportation to Detroit, MI
– Lower Bowl Club Seating to see Trans-Siberian Orchestra at LCA*
*Club Area has: Private Club Bar, Restrooms, Concessions with Chairs and Tables to sit down at.
Itinerary:
4:30 PM – Pick-up at Meijer, Davison (Lot H)
6:30 PM to 10:30 PM – Little Caesars Arena (7:30 PM Show)
11:45 PM – Return to Davison
Reservation Information:
– Sign-up no later than October 27th, 2022
– Full payment due upon sign-up
– No cancellations or refunds after the trip deadline on 10/27/22 unless a replacement can be found
– No children under 5 years of age
BOOKING INFORMATION: (Please read) 
1. Go to the ticket below and put down the number of attendees in your group.
2. The first Attendee is you if you are attending. (We Need your Name and Email Address of attendee 1)*
*If you are part of a group registering separately, please put down in additional comments who you want to sit next to.
3. Just put down the names of the other attendees and then check out.
4. At checkout enter your billing information and payment information and submit.
5. You will receive a ticket for each attendee.  If you entered their emails they will get the ticket.
6. Check-in with the ticket or just with your names at the bus the day of the trip.
Join us: facebook.com/groups/davisontravelers
Related Events - Davison Travelers
Thunder Bay Elk Viewing, Carriage Ride, and Fall Color Bus Trip

Thunder Bay Elk Viewing, Carriage Ride, and Fall Color Bus Trip

Little Shop of Horrors at Meadowbrook Theatre with Italian Family Style Chicken Piccata Luncheon at Alfoccino Restaurant

Little Shop of Horrors at Meadowbrook Theatre with Italian Family Style Chicken Piccata Luncheon at Alfoccino Restaurant

Kewadin, Odawa, and Bay Mills Overnight Casino Bus Trip

Kewadin, Odawa, and Bay Mills Overnight Casino Bus Trip

Turkeyville Presents: Still Dreaming of a...White Christmas and Nite Lites at MIS Bus Trip

Turkeyville Presents: Still Dreaming of a...White Christmas and Nite Lites at MIS Bus Trip

Trans-Siberian Orchestra Bus Trip

Trans-Siberian Orchestra Bus Trip

Firekeepers Casino Bus Trip

Firekeepers Casino Bus Trip

Soaring Eagle Casino Bus Trip March 2023

Soaring Eagle Casino Bus Trip March 2023

Detroit Red Wings Bus Trip

Detroit Red Wings Bus Trip

Riverdance 25th Anniversary Show at the Fox Theatre Bus Trip

Riverdance 25th Anniversary Show at the Fox Theatre Bus Trip

WICKED AT THE WHARTON CENTER

WICKED AT THE WHARTON CENTER